Combined Chart (Abbreviated Case Summaries)
Search Criteria
Payor's Income
$52,000.00
Payor's Age
40
Recipient's Income
$3,000.00
Recipient's Age
39
Length of Marriage/ Cohabitation
15
Number of Dependent Children
2
Children Reside with Recipient
SSDC Reference File #: 00001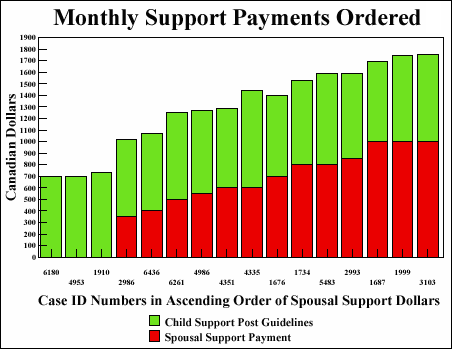 Each column in the graph above represents a case. Click on the column of the case you are interested in to view the details.

To view the search summary report, click here.

Search Request Form

To view/print a Spousal Support Database Input Form, click here.


You will need to have a PDF reader installed on your computer.
Click here to download a free copy of Adobe Acrobat Reader.

Spousal Support
Database
Family Law
Factum Service
What does the Revised Spousal Support Database contain?
This database incorporates almost all available reported and unreported cases from all provinces of Canada dealing with spousal support since the watershed decision of the Supreme Court of Canada in Moge v. Moge of December 17, 1992. The database is updated on a weekly basis. These decisions are obtained from Q.L. System's on-line legal research facility, Quicklaw, and from the Reports of Family Law (RFL) reporting series published by Carswell Thomson Professional Publishing, a division of Thomson Canada Limited.



Click here for more information.


Click here for sample search results including charts, graphs and reports.